Announcing the search for a new Vice-President, Finance and Operations
President Santa Ono has launched a search for a new Vice-President, Finance & Operations, and is seeking your views on the qualities you'd like to see in this appointment.
The Vice-President, Finance & Operations provides strategic leadership to the Finance and Operations portfolio — to accomplish the vision, commitments, goals, and actions of the university's Strategic Plan: Shaping UBC's Next Century.
Responsibilities include oversight of the university budget, treasury and operations, including Workday Finance, on both Vancouver and Okanagan campuses, as well as overseeing the relationship with organizations such as the UBC Investment Management Trust and UBC Properties Trust.
Zone list updates

The Zone list has been updated as of July 5, 2022. Please note that the following update was made:
Red Utility Worker – Yadwinder Pandher
Green Utility Worker – vacant
---
Temporary closure of the loading bay by the UBC Life Building/The Nest
The loading bay at the UBC Life Building/The Nest will be temporarily closed for 18 months for the construction of UBC Recreation North.
View a layout of the temporary loading bay.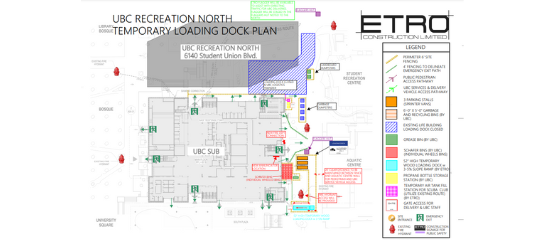 ---
Service Centre operations restricted
The Service Centre operations hours have been reduced to 7:30 am-3:30 pm until further notice.
The main line (604.822.2173) will be redirected to Campus Security from 3:30 pm to 7:30 to ensure 24-hour coverage.
For non-urgent inquiries and requests, please contact servicecentre.buildingops@ubc.ca.
---
Use of masks in The Centre for Occupational Health, Safety & Wellbeing
As announced in the UBC Broadcast on June 27, masks will not be required while using The Centre for Occupational Health, Safety & Wellbeing, with the exception of Allan McGavin Sports Medicine Physiotherapy staff and patients during appointments.
Although masks are no longer required in The Centre, it is important to continue to maintain a safe environment by doing the following:
Know the symptoms of COVID-19 and complete a daily health assessment. If you are sick, stay home. Learn about the self-assessment tool
Wash your hands regularly
We strongly recommend that all UBC community members get vaccinated and if eligible, receive their booster dose. Learn more
We appreciate that some members of our community may wish to continue wearing masks, and we ask that everyone be respectful of these decisions. As we have seen during the last two years, it is important to show empathy for one another, understanding that everyone has different circumstances as we move through the pandemic.
---
The Centre's summer group training schedule 
The summer group training schedule for The Centre for Occupational Health, Safety & Wellbeing begins this week and runs until Friday, September 2nd, 2022.
To register or drop-in for classes, please contact Linda Roseborough via email linda.roseborough@ubc.bc or call 604.822.1327.
View the summer group training schedule
---
Be a 2022 Campaign Champion  
UBC United Way is looking for ambassadors for their annual campaign! As a Campaign Champion, you'll help raise awareness and shape the vision and goal of the UBC campaign in your unit.
Running from October to December, the UBC United Way Campaign is an annual workplace campaign that creates opportunities for UBC staff, faculty, and community members to connect, network and raise funds for a great cause.
Learn more or sign up to become a Campaign Champion
---
Welcome to the team 
Gloria Santos joins Custodial Services within Facilities as Service Worker.
Infrastructure Development within Facilities is pleased to welcome Craig Bissell in the role of Project Manager today, and Jason Asnis as Associate Project Manager on July 15.
Kevin Laing will be starting his journey in the new Building Operations Millwright Apprenticeship on August 2, and Florante Navarra will join the new Building Operations Metal Worker Apprenticeship on September 6.
---
Job openings 
All positions at UBC are available on the UBC HR Careers website, or through the career application in your Workday account. Please note that applications will be accepted until 11:59 p.m. on the day prior to the posting end date. The following VPFO positions are currently open:
Utility Worker (JR8326) – 7/6/2022
Trades 2 – Carpenter (JR8417) – 7/7/2022
Utility Worker (JR8448) – 7/11/2022
Labourer 3 (JR8504) – 7/12/2022
Trades 2 – Carpenter (JR8495) – 7/15/2022
Trades 2 – Bricklayer (JR8528) – 7/15/2022
Student Litter Picker-1 (JR8420) – 7/18/2022
Don't forget to apply as an internal candidate! Please review the Apply for an Internal Job Posting guide in the Workday Knowledge Base for instructions on how to apply. Reminder to attach a copy of your resume when you apply for a career opportunity in Workday.
---
In case you've missed it 
Here is a quick recap of key events and information that you may have missed. For more details, please click on the links below or refer to our weekly portfolio newsletter, VPFO Update.
---

Active, intentional and ongoing learning for EDI 
Equity, diversity, and inclusion (EDI) aren't milestones — they're the fundamental components required to create a welcoming and inclusive workplace at UBC. It is hard work that takes active, intentional, and ongoing learning (and unlearning).
Self-paced, online courses developed by the VPFO EDI Committee
Developed by the VPFO EDI committee, this series of self-paced, 45-minute online EDI courses cover topics from power & privilege, to systemic racism and stories of resilience. You'll also receive a certificate after completing the six courses.
For details and instructions, visit the VPFO EDI Training page.
Just launched – new Positive Space: Foundations course
The new Positive Space: Foundations course is your resource hub for promoting and practicing inclusivity towards sexual and gender diversity.
Learn about amatonormativity, what to do if you misgender a friend, and how you can engage in respectful interactions related to names, pronouns and inclusive language.
---
Workplace strategies for mental health: Self-awareness for emotional intelligence
Emotional intelligence is our ability to understand and manage our own emotions as well as identify and respond effectively to others' emotions. Not only does it have a positive impact on your personal and professional relationships, but it can also help to reduce your own stress levels.
The Emotional Intelligence Self-Assessment provides an opportunity to learn about your strengths and weaknesses and is designed to help:
Enhance awareness of your emotions
Reduce your stress
Positively impact those around you
To learn more, check out Emotional intelligence for employees and Emotional intelligence for leaders for action-oriented and reflection exercises to help you further refine your emotional intelligence.
---
Emergency tip: How much water should I have for an emergency?
Plan to have at least four litres of water per person per day for drinking, personal hygiene, preparing food and dishwashing. A family of four should store 48 litres of water for a three-day period. Don't forget to have some extra water for your pets!
For more information about water storage and treatment, visit Government of Canada's website.
---
Managing your mental health
Human Resources has collected mental health resources to help you manage your ups and downs. To view workshops, webinars and events, visit the HR event listing.
Our HR representatives are always available for a confidential conversation:
Monica Haab (monica.haab@ubc.ca): Building Operations, Energy & Water Services, Customer Services & Informatics, and Municipal Services
Gregor MacDonald (gregor.macdonald@ubc.ca): Custodial Services and Infrastructure Development