Masks no longer required in UBC public indoor spaces after June 30
In April, UBC announced it was requiring masks to be worn in indoor public spaces until June 30, 2022. This decision was in support of our students, faculty and staff, as we continued to navigate the COVID-19 pandemic and the Omicron variant.
Since that time, public health data has indicated that BC has passed the 6th wave of the pandemic. After consulting with internal stakeholders, and consistent with the position of the BC Provincial Health Officer, the university has made the decision to no longer require masks in public indoor spaces on campus after June 30.
We appreciate some members of our community may wish to continue wearing masks, and we ask all our students, faculty and staff to be respectful of these decisions.
Shared electric vehicle charging stations unavailable 
Please note that the electric vehicle charging stations are currently experiencing issues following an upgrade of the software. A service ticket has been submitted and new models will be ordered shortly.
In the meantime, there are several functioning charging outlets available by the garage at the second last station away from the door. Please ask your teams to keep at least one of those spots open for charging.
---
New job strategy session (NJSS): June 21, 2022
Construction Office 
University Services Building: Doorway and doors – requesting quote to secure funding.

Create a new doorway and install a new door into the electrical shop from room 0006A.
Install a new door in an existing doorway or close it off between room 0006 and 0006A.
---
Kudos to our teams for demonstrating teamwork and efficiency
Building Operations and Municipal Services recently investigated the offline HVAC controllers on level three of the Allard Law Library. The ceiling in the Allard Law Library is at least 15-20 feet tall, which requires two GR-20 lifts to reach.
Kudos to our teams for working together and with the users at the Allard Law Library to complete this project within four days:
Controls crew rented lifts from Stores
Carpenter crew assisted with placing large pieces of wood under the lifts to avoid carpet damage due to the large area
Building Management Systems (BMS) crew assisted with staggering the HVAC ON/OFF during the work
Moving crews assisted with moving large desks and chairs out of the way.
Utility crew came to assist when the teams noticed a large number of burnt-out ceiling lights.
This is a good example of our crews achieving efficiency in their process and providing excellent customer service for our community. Great work!
---
Dealing with Heat Stress and Exposure
Advice for staying cool:
Stay out of the sun as much as possible
Plan ahead for where you can spend time in a cool or air-conditioned place, and seek shade when outside
Wear a wide-brimmed hat, lightweight, loose-fitting clothing, and sunscreen
Avoid strenuous activity and exercise
Drink plenty of cool fluids such as water before you feel thirsty
Fill up your water bottle frequently at taps and drinking fountains
Dampen washcloths, hand towels with cold water to make a cool compress
Recognizing symptoms and signs of heat-related illness and heat exhaustion:
Extreme thirst
Dizziness
Confusion
Weakness
Fainting
Rapid breathing and heartbeat
Nausea and vomiting
If you see someone suffering from too much heat, call 9-1-1 and help them cool off by applying water to their face and neck until emergency services arrive. You can also call 8-1-1 to speak to a nurse. Interpretation services are available on these phone numbers.
Visit the Safety & Risk Services website to find resources to stay cool and safe, and information on heat stress and safety.
---
Save the date: Facilities' Ice cream social
Join us for UBC Facilities' Ice Cream Social on Thursday, July 21 for some fun games and cold treats!
Day shift: 11:30 am–12:30 pm, USB Yard
Evening shift: 7:00 pm–8:00 pm, USB Yard
Night Shift: 11:30 pm–12:00 am, UBC Life Building
We are looking for volunteers! If you would like to volunteer, contact Caroline MacLeod at caroline.macleod@ubc.ca.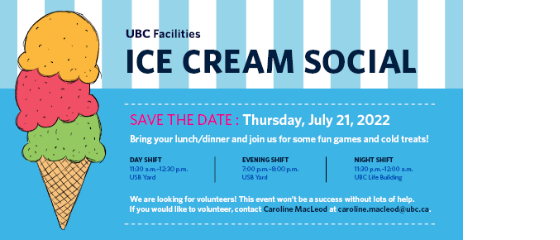 ---
The Centre's Summer Group Training Schedule  
The summer group training schedule for The Centre for Occupational Health, Safety & Wellbeing begins Monday, July 4, 2022. Please refer to the attached for more information.
To register or drop in for classes, please contact Linda Roseborough via email linda.roseborough@ubc.bc or call 604.822.1327.
---
Welcome to the team 
Energy & Water Services within Facilities welcomes Ethan Chan as Power Engineer and Nathan Kwong as Relief Shift Team Leader.
The Project Services team within Infrastructure Development is pleased to welcome Craig Bissell in the role of Project Manager on July 4, and Jason Asnis as Associate Project Manager on July 15.
---
Job openings 
All positions at UBC are available on the UBC HR Careers website, or through the career application in your Workday account. Please note that applications will be accepted until 11:59 p.m. on the day prior to the posting end date. The following VPFO positions are currently open:
Oper/Drvr-Heavy Equip (JR8236) – 06/29/2022
Director, Custodial Services (JR8165) – 6/30/2022
Trades 2 – Steamfitter / Pipefitter (JR7935) – 6/30/2022
Utility Worker (JR8325) – 6/28/2022
Lead Service Worker (JR8449) – 7/4/2022
Utility Worker (JR8326) – 7/6/2022
Trades 2 – Carpenter (JR8417) – 7/7/2022
Utility Worker (JR8448) – 7/11/2022
Student Litter Picker-1 (JR8420) – 7/18/2022
Don't forget to apply as an internal candidate! Please review the Apply for an Internal Job Posting guide in the Workday Knowledge Base for instructions on how to apply. Reminder to attach a copy of your resume when you apply for a career opportunity in Workday.
---
In case you've missed it 
Here is a quick recap of key events and information that you may have missed. For more details, please click on the links below or refer to our weekly portfolio newsletter, VPFO Update.
---

Celebrating Pride on and off campus this June 
Pride is celebrated each June to commemorate the anniversary of the 1969 Stonewall riots, a key event in the fight for 2SLGBTQIA+ rights.
In this VPFO EDI article, learn more about the three ways you can celebrate pride month and support the diverse community of LGBTQ+ on and off campus this June.
Did you know that UBC has created a page dedicated to providing information about Pride events, specifically focusing on events in Vancouver and Kelowna? Learn more
Read the full VPFO EDI article 
---
Workplace strategies for mental health: Tips on how to de-stress at work
When you start feeling the crunch, remember there are lots of ways to make things a little more manageable and keep your stress in check. Here are 10 ways to help relieve stress at work.
Put on some music – Pop your headphones on and play something soothing to help reduce anxiety.
Take a few deep breaths through your nose – The extra oxygen helps reduce tension and relieve built-up stress.
Find support from your co-workers – If you are feeling overwhelmed, stressed or need help, chat with co-workers or talk to your manager to find productive solutions.
Meditate at your desk – It's amazing how a few minutes of quiet time and mindfulness can help you through a stressful day.
Step away from the screen – Sometimes all you need is a quick change of scenery and that little shift can put things into perspective.
Keep a to-do list – Prioritize what needs to get done and cross things off your list as you accomplish them. Seeing progress will keep you motivated.
Laugh – Watch a quick video, message a friend, or talk to a co-workers. Sometimes a smile and a little laughter can reset your mod and give you the focus you need to get things done.
Do a workspace makeover – This can be anything from a spring clean to adding a picture frame and some drawer organizers. A clean and calming space will help you focus on what you need to.
Go for a walk – Heading outside for some fresh air will clear your head and boost your endorphins (brain chemicals that reduce your stress)
Notice the positive – keep track of the good things that happen – like a successful project or a few kind words. Those little things can boost your mood and help keep any negativity in check.
---
Emergency tip: What do you do if you are driving during an earthquake?
Slowly bring your car to a stop in an open and safe area away from bridges, power lines, trees, and buildings. Turn off your engine and wait inside until the shaking stops. Remain inside if a power line falls on your vehicle until emergency personnel can get you out safely.
Refer to this fact sheet by Shake Out BC for more information.
---
Managing your mental health
Human Resources has collected mental health resources to help you manage your ups and downs. To view workshops, webinars and events, visit the HR event listing.
Our HR representatives are always available for a confidential conversation:
Monica Haab (monica.haab@ubc.ca): Building Operations, Energy & Water Services, Customer Services & Informatics, and Municipal Services
Gregor MacDonald (gregor.macdonald@ubc.ca): Custodial Services and Infrastructure Development