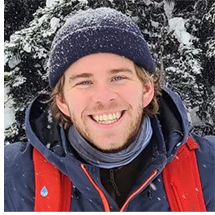 Stuart Gilbert is the successful candidate for the Assistant Civil Engineer position, joining the Engineering & Utilities team in Energy & Water Services.
Stuart will be responsible for developing and managing programs to achieve the implementation of infrastructure and services plans. He will be reporting to Doug Doyle, Senior Manager, and work closely with the Mechanical Utilities unit. Stuart's first day is Monday, October 25, 2021.
Stuart is a Civil Engineer and joins us from Associated Engineering where he began his career as a Construction Inspector. He brings to the team his experience with conceptual and detailed designs of municipal water, sewer and storm utilities, and urban road infrastructure. His technical skills include civil design and specifications, hydraulic modelling, technical report writing, contract administration, and construction inspection.
Stuart loves the outdoors. Not only is he an avid cyclist, but he is also an avid skier and is Level 1 Avalanche Safety Training certified.