Archives by date
You are browsing the site archives by date.
December 23, 2022
Happy holidays from John It was great to see the full Facilities team at the Holiday events last week at the AMS Nest. It's nice to be able to gather in person again to share the spirit and warmth of the season and to recognize and celebrate the hard work of the past year. It's been […]
December 20, 2022
It's been another unique year at UBC as we have transitioned back to more normal operations after the pandemic, yet have undergone some significant changes. I'm proud of everyone's efforts to build a cohesive Facilities team within the VP Finance & Operations portfolio. 
December 20, 2022
This year, we received over 60 nominations. The 2022 Staff Excellence Award selection committee had quite the task of reviewing the submissions. After careful consideration and intense deliberation, congratulations to our 2022 Staff Excellence Award recipients!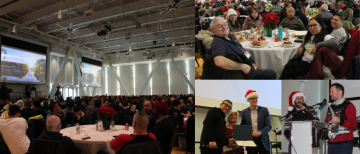 December 18, 2022
Thank you for coming to our first Facilities Holiday events. It was wonderful to have our different groups gather to celebrate the season.
December 14, 2022
Wood construction allowed the University of British Columbia to represent three of its core values in designing the new Gateway Building: sustainability, personal well-being and Indigenous collaboration. The six-storey, 267,000-square-foot mass timber building is designed to be an iconic welcoming place for students, faculty and visitors.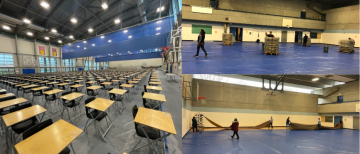 December 13, 2022
Twice a year, at end of Term 1 and 2, Custodial Services and Municipal Services work together to set up Osborne Gym and Student Recreation Centre (SRC) Gym with 1,340 tables and chairs, to support and maintain an ideal exam experience for UBC students. 
December 13, 2022
Facilities teams work together to ensure an ideal exam experience for UBC students Setting up an exam space is not an easy task — it requires hours of hard work and strict compliance with UBC's exam requirements, especially with space setup and delivery of exam booklets. Twice a year, at end of Term 1 and […]
December 8, 2022
The upcoming winter holidays present a final opportunity for visitors to explore the Museum of Anthropology at UBC before it closes for much of 2023. This temporary closure is to complete the seismic upgrades of the Great Hall and accomplish other work on the building.
December 6, 2022
December 6 is The National Day of Remembrance and Action on Violence Against Women December 6, 1989 marks the day an armed man walked into an engineering class at I'école Polytechnique de Montréal and killed 14 women and injured ten more.  This act of violent misogyny led Parliament to designate December 6 as The National Day of Remembrance […]
December 6, 2022
The Technical Guidelines play an important role in the development and projects at UBC, and help to ensure that buildings and renovations are designed and constructed to optimize service life and minimize the whole life-cycle cost for the University.