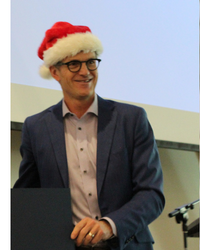 It was great to see the full Facilities team at the Holiday events last week at the AMS Nest. It's nice to be able to gather in person again to share the spirit and warmth of the season and to recognize and celebrate the hard work of the past year.
It's been another unique year at UBC as we have transitioned back to more normal operations after the pandemic, yet have undergone some significant changes. I'm proud of everyone's efforts to build a cohesive Facilities team within the VP Finance & Operations portfolio.
We have faced many challenges this year — COVID, extreme weather, power outages, Planon/Workday growing pains. We probably spend most of our time focusing on our challenges and looking for solutions. This is normal and important.  Problem-solving is what we do as facilities professionals and we're good at it. We also need to celebrate our successes though.
Here are just a few of the many notable accomplishments in UBC Facilities in 2022: 
Held our first United Way Dip-Off held in the USB Atrium – good food for a good cause
Transitioned successfully to a new organizational structure in Custodial Services to enhance service to the Vancouver campus community
Commenced remote operation of the Campus Energy Centre from the Bioenergy Research and Demonstration Facility through a special Alternative Safety Approach (ASA) with Technical Safety BC, using technology and practices to meet or exceed regulatory requirements.
Started construction on Phase 1 of the Main Campus Electrical Substation upgrade, a foundational element to  meet UBC's Climate Action Plan 2030 decarbonization targets.
Developed and implemented a Municipal Services team charter to promote a healthy and collaborative workplace.
Implemented the Planon system Energy & Water Services
Continued growth of Preventative Maintenance programs in Building Operations
Advanced asset management in Municipal Services through organizational changes that enhance coordination with the transition team and grow our preventative maintenance programs.
Used Planon data to make key decisions such as when to replace aged infrastructure
Shared our knowledge with other universities by presenting our Indoor Air Quality program at the PCAPPA conference
Completed the MacLeod Building renewal project
Started construction on  the Gateway Health, School of Biomedical Engineering, and Recreation Centre North building projects
Completed the first full year of the Asset Replacement & Improvement team being part of Infrastructure Development
Collaborated with the UBC Institutional Research Office (IPO) to complete 32 Canadian Foundation for Innovation (CFI) and John Evans Leaders Fund (JELF) applications in support of UBC researchers
Implemented a comprehensive equity, diversity and inclusion (EDI) training program to help ensure an inclusive, welcoming and respectful workplace in which we can all succeed individually and as a team.
Through our collective efforts and commitment, it's been a productive and successful year.
Thank you all for the outstanding work you do for the university, for working together and supporting each other, for doing your best every day and for making UBC and UBC Facilities an inspiring place to work.
I wish you all a safe and happy holiday season with your loved ones.
John Metras  
Interim Vice-President, Operations