Archives by date
You are browsing the site archives by date.
April 26, 2021
Metro Vancouver's Drinking Water Conservation Plan, Stage 1 watering restrictions will come into effect on May 1, 2021, as outlined in Metro Vancouver's Drinking Water Conservation Plan. The days and times in which watering will be permitted remains the same as in 2020.
April 23, 2021
Metro Vancouver has notified UBC Vancouver that they are planning to increase the pH and alkalinity of the region's drinking water through the use of natural minerals in early June 2021. This increase in pH and alkalinity is an important step in a long-term program to reduce pipe corrosion from naturally occurring elements in drinking water.
April 22, 2021
Lindsay Forsyth is promoted to Sub-Head Landscape Technologist, and Jeff Bosworth is promoted as Landscape Technologist Apprentice in Municipal Services within Building Operations.
April 22, 2021
The Demolition of  the DH Copp Building began last month for the development of the new School of Biomedical Engineering Building, a partnership between the Faculty of Medicine and Faculty of Applied Science, and a top strategic priority for the University and both Faculties.
April 20, 2021
The aging water pump station located in the Power House is now disconnected from the University Boulevard transmission main, and the new UBC Water Supply Centre is fully running the campus water distribution.
April 19, 2021
In collaboration with UTown@UBC, Building Operations created and installed seasonal photo frames for the campus community to enjoy the short blossom season.
April 13, 2021
With the recent increase in COVID-19 cases in BC, including increasing cases involving more easily transmitted COVID-19 variants, it is more important than ever for each and every one of us to follow required safety protocols when working on campus.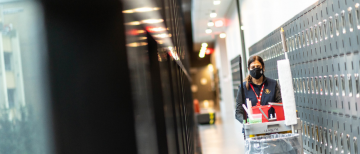 April 13, 2021
Custodial Services has been working with Free Periods Canada, a grassroots organization founded by UBC students, to promote intersectional menstrual equity by ensuring all menstruators have access to the products and information they need.
April 12, 2021
UBC Athletics & Recreation recently filmed a fly-over video of the new recreation Centre, which will be located to the North of the UBC Life Building.
April 7, 2021
As we head into the new financial year, I want to take a moment to thank everyone for their continued hard work and dedication. I recognize the new systems have been challenging and I am proud of the resilience and continued collaborative efforts of the Facilities team.