As many of you are aware, Asset Replacement & Improvements (ARI) is in the process of implementing a new approach to the Construction Office, a significant part of the process of joining with Infrastructure Development to form a new, unified, project delivery team for the Facilities Group.
This new approach includes a phased transfer of in-house trades dedicated to delivering projects, which will allow for greater project delivery efficiency, and help all of our teams be more successful in service delivery to the campus community.
I am pleased to announce that a key component of the new organizational structure is now completed. We have awarded our posted Project Coordinator and Project Supervisor roles to the successful candidates. Please join me in congratulating all of them when you have an opportunity.
Project Coordinator
Jennifer Dick: Jennifer worked as both a Project Manager and Assistant Shop Foreman, managing high-end commercial and residential millwork projects prior to joining UBC in 2019 as a Carpenter/Joiner in Building Operations. She has extensive experience in designing and estimating carpentry projects, working with clients to ascertain scope, and ensuring that her team of tradespeople have clear direction to ensure a successful outcome for clients. Jennifer recently completed a temporary term in the Construction Office as a Project Coordinator. She is a Red Seal Cabinetmaker (Joiner), and has a Bachelor of Arts in History from UBC. Jennifer's considerable project background and her dedication to customer service excellence and teamwork will be invaluable in her new role.

Project Supervisor
Ian Maclean: Ian joined UBC in 1997 as a Carpenter in Building Operations, completed two temporary terms as a site supervisor, and was promoted in 2016 as Sub-Head Carpenter in Trades. Prior to being part of the Trades team, Ian worked in Whistler, Vancouver, and Victoria renovating and building new residential properties. Ian is a long-standing member of the Joint Contracting Out Committee, has been a CUPE116 shop steward, and has been Treasurer/President of the UBC Employees Society No. 116. He completed the business systems technician program at Camosun College, and received his Red Seal in Carpentry at BCIT. Ian's building experience and his long-standing dedication to UBC and the trades teams provide him with a solid foundation for success in his new role.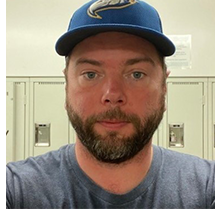 Todd Mullin: Todd joined UBC in 2012 as a Carpenter in Student Housing & Community Services (SHCS) Trades before joining the Building Operations Carpentry Shop in 2018. He is an active participant in the supervisory Expression of Interest (EOI) program, completed a temporary term in the Construction Office as a Site Supervisor, and recently has completed a term as the Worker Co-chair/Safety Representative on the Trades Joint Occupational Health & Safety Committee (JOHSC). He has demonstrated his commitment to lifelong learning by completing a Building Construction Associate Certificate from BCIT and a Project Management Professional Certificate from the Sauder School of Business at UBC, in addition to being a Red Seal Carpenter. Todd's mix of education and experience will serve him well in his new role.
Next Steps
I recognize that the Asset Replacement & Improvements transition from Building Operations to Infrastructure Development is a significant change for the Facilities group, and a direct impact to the Construction Office. It will take some time for all of our teams to adjust to the new organizational structure. I have confidence that this new structure will allow for greater project delivery efficiency and open new opportunities for career growth. There will be a few more vacancies to fill, as successful candidates take on their new roles.
Thank you everyone for your efforts in enabling and supporting this transition. I am certain this will help strengthen our Facilities team and help us work together more effectively.
Further announcements will be coming very soon with regards to the official start date for ARI joining Infrastructure Development. Please feel welcome to connect with your supervisors or myself if you have any questions.
John Metras
Associate Vice-President, Facilities