Archives by date
You are browsing the site archives by date.
April 29, 2022
Stage one of Metro Vancouver's Lawn Watering Regulations will be in effect from May 1, 2022 to October 15, 2022, as outlined in Metro Vancouver's Drinking Water Conservation Plan. This year, both residential and non-residential watering is only allowed once a week, instead of previous years' allowance of twice a week.
April 28, 2022
The BMO Vancouver Marathon is coming through UBC – road closures will occur on Sunday, May 1st from 8:00am – 12:00pm.
April 27, 2022
Flags on both UBC campuses are to be lowered in recognition of the National Day of Mourning, to remember lives lost in the workplace and resolve to prevent future tragedies.
April 26, 2022
Masks required in UBC public indoor spaces until June 30 As there are now signs of further Omicron variants and increased case numbers, experts have indicated that BC is about to enter into a sixth wave of the COVID-19 pandemic. In light of these factors, UBC has made the decision to maintain the requirement to […]
April 25, 2022
UBC Okanagan Skeena Residence has successfully earned its Passive House Certification, making it the first student residence in Canada and second in North America to receive this certification. 
April 20, 2022
Share your feedback on Planon Last week, if you are a regular Planon user, a feedback survey has been sent to your email, or a paper version was provided to you. We are asking for your help to please respond to all the questions as your feedback is important, regardless of your level of involvement […]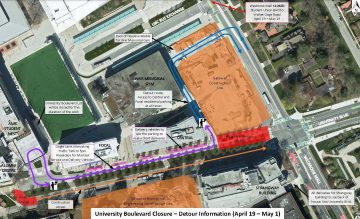 April 19, 2022
Due to three projects under construction simultaneously—School of Biomedical Engineering (SBME) Building, Gateway Health Building, and a utility steam tunnel repair, the University bus loop will be closed starting April 19 to May 1, 2022. Please plan your route accordingly.
April 14, 2022
The University Endowment Lands will be completing an emergency repair on an incoming watermain on 16th Avenue. UBC Facilities will support this work from April 20th – 22nd, 2022 by switching over our campus water feed, once the repair commences.
April 12, 2022
Message from Peter: Thank you As many of you now know by way of the broadcast email on April 5 from President Ono, I am leaving UBC at the end of May to take on the role of VP Administration at Kwantlen Polytechnic University. To start, I want you to know that working at UBC […]
April 12, 2022
Jonathan joined UBC in September 2019 working as a project carpenter in Building Operations. He participated in continuing education by volunteering for the Expression of Interest Program (EOI) program back in 2020, and since then has supported the crew as a backup head/subhead.